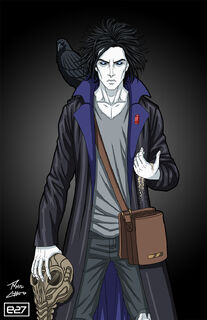 History
The Dreaming is an elemental force of psychics, thoughts, dreams, and nightmares. It's also known as the Od.[1] It is home of Dream of the Endless.
It is the most well documented of the Endless residences for all of us visit it often, for it is where we all go when we dream and the plane from which all psychic phenomena are drawn. Due to the necessity of it, the Dreaming is also the most diverse and expansive of the Endless Realms. Besides the dreamers who enter it every night, there are the many resident arcana: thousands upon thousands of creatures from Cain and Abel (Keepers of Mysteries and Secrets, respectively), Lucien the Librarian, Mervyn Pumpkinhead the Janitor, and a slew of dreams and nightmares including the Corinthian (nightmare), Fiddler's Green (dreamscape), and Dream's spies and scouts in the form of ravens. Of course, The Dreaming itself seems to be alive and is always changing, it's quite malleable especially to the caress of Dream's power. Dream lives in a place called Ghost Castle.
Residences of other Endless also exist there:
Trivia and Notes
Trivia
Notes
Links and References
Community content is available under
CC-BY-SA
unless otherwise noted.