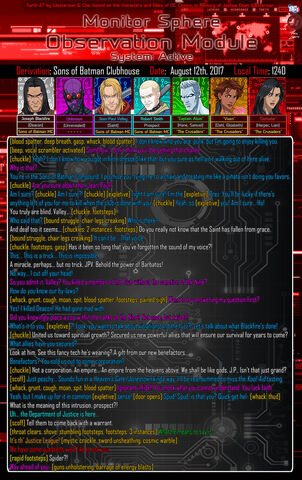 Characters
Location
VOX Archive
Coming Soon...
Trivia and Notes
Story continues from ObMod: Family Secrets 6.
Story continues in ObMod: Family Secrets 8.
Sam, Lizzie, and Lian used the H-Dial to turn themselves into Captain Atom, Vixen, and Darkstar, respectively, in ObMod: Family Secrets 4.
Blackfire was killed in ObMod: Beyond Crisis 3 and resurrected in ObMod: Beyond Crisis 4.
The "Nine" are the Inner Circle of the Sons of Batman (The Prez, VP, Road Chaplain, Treasurer, Keeper, Sgt. At Arms, Scourge, and Secretary).
Jean-Paul Valley placed a cop within the rank of the Nine, two times, the first time making Catalina Flores the Scourge, and the second time dressing Michael Lane as Azrael.
The new allies that Blackfire got can be seen in ObMod: A New Horizon 23.
Links and References
Community content is available under
CC-BY-SA
unless otherwise noted.